---
Dance Love Sing Live Quote Bedroom Home Décor Wall Art Sticker Vinyl Transfer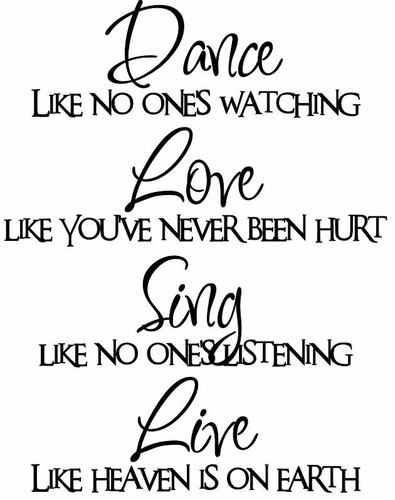 *You will receive 1x vinyl at a maximum size of approximately:
Small = Up to 6x6 Inches
 Medium = Up to 9x12 Inches
Large = Up to 12x12 Inches
X-Large = Up to 12x24 Inches
(Please Note: Some sizes may slightly vary. We try to be as accurate as possible but please be aware some pictures are unable to be stretched to full size due to aspect ratio.)
The type of vinyl we offer is high quality premium professional grade. 
It is highly sustainable, waterproof and can be used indoors or outdoors for a wide range of graphic and signage applications.
 Professional grade vinyl has strong adhesive properties making it the perfect choice for most permanent indoor and outdoor projects.
This vinyl applies easily to most flat surfaces including but not limited to:
(Glass, Wood, Plastic, Metal, and Walls.)
Available in many colours:
If you would like a different colour than what is shown then please send us a message.
If no colour is selected it will come in the same colour as the pictures.
Colours Available:
Black, White, Red, Dark Blue, Yellow, Pink.  
Plus Many More....
*Please Note*  
 If you require a reverse image for use on glass etc, please send us a message after purchasing.
If you are unable to find the size you are looking for then send us a message and Im sure we will be able to assist.
Photos are for illustration purposes only and does not reflect actual decal size.
Application:
1. Place decal face down on a flat surface
2. Gently peel off decal backing paper by pulling up and bending backing away from a corner leaving decal on clear 'transfer paper'.
3. Make sure the surface where you will stick the decal is clean and dry
(VERY IMPORTANT)
4. Turn decal over and stick to hard surface of your choice (i.e. coffee cup, wall, car bumper - just about anywhere!) - stick down centre first by gently bending decal at the centre, then stick down outer edges.
5. Using a squidgy work out any air bubbles between clear 'transfer paper' and decal before gently peeling off clear transfer paper to reveal decal in position.
Note, the vinyl used is of the highest quality and for use indoors or outdoors and has a lifetime of at least 3-5 years.